For Proficiency Training, e-Learning,
Troubleshooting and Performance Support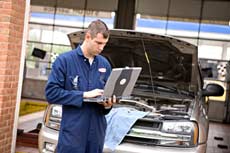 INTERLOCKS
modeling and simulation tool
has been described as "the system expert in a box". By adding realistic equipment views and operator procedures, it becomes a performance support tool that can be used to run through defined procedures and learn system operation. It contains the event relational database required to learn component use, interrelations, and failure modes.
The strength of INTERLOCKS as a performance support tool is its fault insertion and troubleshooting capabilities. Any system failure can be inserted into the model and the cascading effects are instantly displayed. This enables fault recognition and the ability to practice maintenance and casualty procedures.
The automated troubleshooting mode uses discrete event simulation to calculate the cause of system failures.
By inputting symptom indications, a list of Lowest Replaceable Units (LRUs) whose failure could cause the observed symptom(s) is generated. This list is interactive allowing the user to select a possible fault and observe its effect on the system. The entire troubleshooting session can also be saved as an external HTML file for further analysis or reporting.
INTERLOCKS can provide a complete training package by linking to, or embedding, existing operator and maintenance procedures, interactive electronic technical manuals, and additional courseware. The tool is currently being used for:
Distance support
Fault isolation and troubleshooting
Fault recognition training
Corrective maintenance exercises
Multiple failure analysis
Reliability centered maintenance